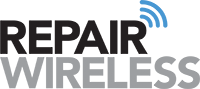 As a business, your technology is important. Whether your technology is the phone you have with you at all times or the computers you use at your place of business, we know that keeping your devices up and running is incredibly important. Even just having a single computer acting up can bring your business grinding to a halt. That's why Repair Wireless is proud to offer our business to business (B2B) services.
Repair Wireless is proud to offer our B2B services to local businesses just like you to keep your local business running as smoothly as possible. From broken iPhones and Androids to broken POS computers, we can fix it all. We tackle a variety of issues daily, and we're certain we can offer you an affordable repair option for your business' tech issue.
Not sure what the problem is?
We've got you. We'll help you to diagnose your business' issue and make recommended steps to get you back up and running – fast. We offer a variety of repair services beyond physical repair parts; we also offer software restoration and recovery, malware removal, and more. Once we diagnose your problem, we can deliver to you a report of the next steps that will need to be taken to fix the issue, and any recommended changes that can help you avoid a problem in the future.
Need a hand? We can also make recommendations for your business' specialty to help you in case of an issue. Just ask!